Great Scott, Allston MA
9pm sharp if you want to see us.
Another poster by Ryan, this time for the Skeletonwitch/Doomriders show in Boston. Edition of 35…3 of which are on black. For sale at the show.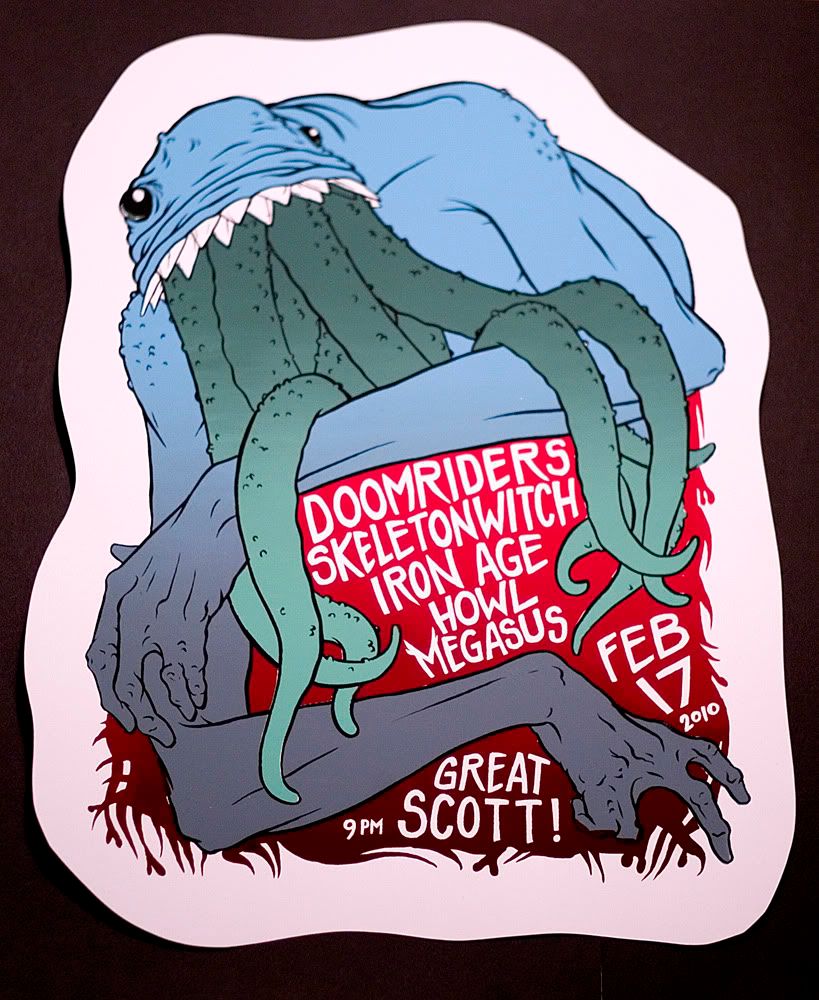 Edition of 33. Drawn by Ryan, Printed by Ryan and Paul. Silver and Metal Flake Black.
January 23, 2010
Doomriders
Megasus
Snowbird
Jerky's – Providence, RI
Megasus joins the ranks at 20 Buck Spin alongside fellow noise makers Kylesa, Nadja, Hammers of Misfortune, Coffins, Stormcrow, Black Boned Angel, White Mice (fellow Providencers), and more. 20 Buck Spin will be releasing a CD version of the previously limited edition LP released earlier this year. More info on that soon, but that puny little silvery disc will barely be able to contain the wild power.
For more info, check www.20buckspin.com
If you want a copy and are having a hard time finding it (and do not want to wait until it hits a store near you) shoot us an email at flightofthemegasus at gmail dot com. Aquarius and Armageddon can get them for you. There may even be a first pressing or two at Kreation as well.
The original LP has been sold out for months, but the 2nd pressing is now available. The 2nd pressing is blood red/black swirl 180+g vinyl in a foil stamped gatefold. It includes a 24″x36″ poster and a sticker as well as a download card for the entire album in high quality mp3 format. This new version is currently at Aquarius in SF and will be in stock at Armageddon in Providence as soon as we drag ourselves over there. Wider distribution is coming very soon.